Amy Tong
Amy Tong was appointed Secretary of Government Operations by Governor Gavin Newsom in March of 2022, elevated from her previous role as the State's Chief Information Officer and Director of the California Department of Technology.
She is a first-generation immigrant who was a teenager when she moved with her family from China to America in 1986, with just eight suitcases with them. They relied on public services to acclimate to California, an experience that drives her commitment to working as a public servant today.
Her two-decade-plus career in state service began when she started with the State of California as an entry-level programmer at the State Water Resources Control Board. From there, she rose to positions of greater responsibility in six state agencies, ultimately being appointed to Administration leadership roles.
Prior to becoming Secretary, Tong led critical round-the-clock technology projects during the COVID-19 pandemic to provide information and data, including systems for monitoring hospital capacity, public health reporting, remote learning, telework, vaccination and wildfire response. During the emergency she guided efforts to build more than 40 new technology tools and make critical repairs to legacy systems.
As the Secretary of Government Operations, Tong is focused on transforming state government through innovation.
A champion of user-centered design, Secretary Tong has led efforts to modernize the State's project delivery, technology procurement, cloud smart adoption, open data, workforce development pipeline and cybersecurity measures. Throughout her 25-year-plus career in state government, she has been a champion of data–driven decision making and has constantly looked to utilize new, cost-effective technologies for the benefit of California residents.
In addition to her leadership roles in state government, Tong volunteers as a member of the California Northstate University Board of Trustees, the National Association for the Advancement of Colored People, the Asian Pacific State Employee Association and as National Senior Advisor for Asian Pacific Islander American Public Affairs Association.
Secretary Tong holds a Bachelor of Science in Management Information Systems and a Master of Business Administration from California State University, Sacramento.
Undersecretary of GovOps
Miriam Barcellona Ingenito
Miriam Barcellona Ingenito was appointed Undersecretary of GovOps by Governor Gavin Newsom in August 2022.
Ingenito was the first Director of the Financial Information System for California (FI$Cal) since its formal recognition as the Department of FI$Cal in July 2016. She began her tenure at FI$Cal in September 2015 with the benefit of 20 years of public policy experience in California State government.
Her range of expertise includes legislative, fiscal, administrative and environmental issues. Miriam served as the Chief Deputy Director of the Department of Toxic Substances Control from 2013 to 2015. Previously, she served as the Deputy Secretary of the California Environmental Protection Agency from 2011 to 2013, Deputy Director of Legislation at the California Department of Finance from 2009 to 2011 and as a principal consultant for the California Senate Committee on Appropriations from 2001 to 2009.
Additionally, she held positions in policy and analysis at the California Resources Agency and the California Legislative Analyst's Office. Miriam received her Bachelor of Arts degree from the University of San Francisco, and her Master's degree in Public Policy from the Irving B. Harris Graduate School of Public Policy Studies at the University of Chicago.
Justyn Howard
Deputy Secretary, Fiscal Policy and Administration
Prior to joining the Government Operations Agency, Mr. Howard served in a number of capacities at the California Department of Finance, including as Program Budget Manager from 2015 to 2017, Assistant Program Budget Manager from 2013 to 2015, and Principal Program Budget Analyst from 2010 to 2013. In these roles, Mr. Howard oversaw state-wide budget development, implementation and fiscal policy for several state departments, local government programs and Redevelopment Agency Dissolution. Prior to his state career, Mr. Howard worked in Logistics for Target Corporation. Mr. Howard has a Bachelor of Science degree in Business Administration, with a concentration in Finance, from California State University, Sacramento.
Email: Justyn.Howard@govops.ca.gov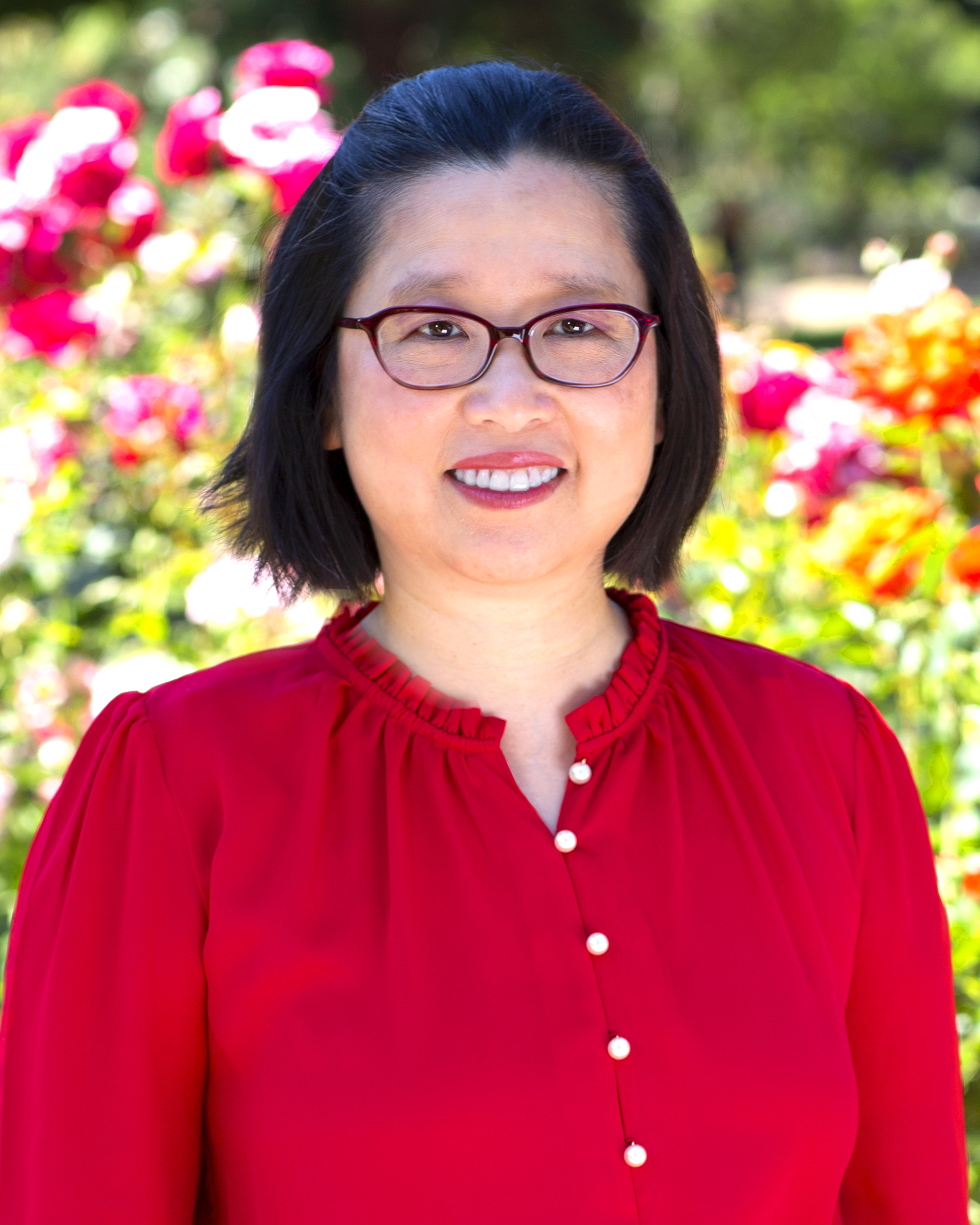 Pam Chueh
State Chief Equity Officer
Pam Chueh was appointed as California's first State Chief Equity Officer by Governor Gavin Newsom in August 2022. Driven by her personal experience as the parent of a child with multiple disabilities, Chueh previously led Sacramento non-profit organization, WarmLine Family Resource Center, as its Executive Director to serve families of children with disabilities. Chueh served the State Assembly and Sacramento State University as Director of the Jesse M. Unruh Assembly Fellowship Program for a decade mentoring and developing over 200 young leaders for public service. Chueh began her career as a welfare-to-work case manager and job developer for Los Angeles County's Department of Public Social Services. This experience, coupled with her background as an immigrant, led her to various roles with the State Assembly, including serving as the first staff Consultant to the California Asian Pacific Legislative Caucus, Special Assistant to two Assembly Speakers, Legislative Assistant, and Field Representative. Pam's other professional experiences include serving as a Legislative Advocate for Los Angeles County's Department of Public Social Services and Community and Government Relations Manager for Kaiser Permanente in San Jose. She holds a B.A. in Economics from the University of California, San Diego.
Email: Pam.Chueh@govops.ca.gov
Stuart Drown
Senior Advisor for Strategic Initiatives
Prior to his appointment, Mr. Drown was executive director of the Little Hoover Commission for more than seven years, where he managed the citizen-led commission's staff and study process. Before joining government, Mr. Drown was city editor of the Sacramento Bee. His two-decade newspaper career included stints as business editor, labor writer, and metro reporter at various daily newspapers. Mr. Drown has a Master's degree in public policy and a Bachelor degree in economics from UC Berkeley.
Email: Stuart.Drown@govops.ca.gov
Matthias Jaime
Deputy Secretary, Agency Information Officer (AIO)
Matthias Jaime joined in 2021 with the responsibility to oversee the technology portfolio of the Government Operations Agency. Matthias is inspired by the transformative potential of technology to redefine government service delivery and operations. Prior to joining GovOps, Matthias worked at the City and County of San Francisco as the Director for the Committee on Information Technology (COIT). At the City, Matthias was responsible for developing San Francisco's technology strategy, annual budget appropriations for technology projects, and policy development. Matthias is a graduate of UC Berkeley's Goldman School of Public Policy and the University of Wisconsin-Madison.

Email: Matthias.Jaime@govops.ca.gov
Jiwon Jeong
Deputy Secretary, Tax
Jiwon Jeong has focused her career on California tax policy and consulting. Prior to joining the Government Operations Agency, Jiwon was a Director in PricewaterhouseCoopers, LLP's National State and Local Tax practice specializing in California tax. In that role she represented taxpayers before California's tax agencies and served as a subject matter expert on California franchise and income tax, California tax policy, and California legislative and regulatory developments. She also served as the firm's expert on the California Competes Tax Credit program and assisted businesses that wanted to create jobs and grow in California with tax credit agreements awarded by the Governor's Office of Business and Economic Development. Jiwon is a member of the California State Bar and received her Juris Doctor from the University of California, Davis School of Law and Bachelor of Arts in English Literature and Linguistics from Sogang University in Seoul, Korea.
Email: Jiwon.Jeong@govops.ca.gov
Luis Larios
Deputy Secretary, Legislation and External Affairs
Luis Larios was appointed by Governor Gavin Newsom to the Government Operations Agency in 2022. Prior to his appointment, Larios served as Deputy Appointments Secretary in the Office of Governor Gavin Newsom where he helped hundreds of candidates successfully navigate the appointments process. Previously, he worked for several legislators in the California State Assembly. He was a Senior Assistant in the Office of State Assemblymember Miguel Santiago, a Legislative Aide in the Office of State Assemblymember Mike Gipson, and an Assembly Fellow in the Office of State Assemblymember Kevin Mullin. While working in the California State Assembly Luis was elected as Policy Director for the California Latino Capitol Association and was also involved in the Capital Fellows Alumni Association. Luis holds a B.A. in Social Welfare from the University of California, Berkeley.
Email: Luis.Larios@govops.ca.gov
Amy Palmer
Deputy Secretary, Communications
For more than 25 years, Amy Palmer has held senior positions advising elected and appointed government officials on communications strategies in complex, high-profile organizations. Palmer is a former journalist who has worked in Washington, D.C., Chicago and Sacramento, where she has held leadership positions in five agencies and departments. Palmer has designed communications campaigns aimed at educating Californians about programs that directly affect them, including an award-winning campaign to educate public assistance recipients about new work incentives, a statewide bus tour named "best in public sector" in a nationwide PR campaign competition, and government technology awards for website content featuring stories of Californians helped by innovative government programs. Palmer has a master's degree in journalism from Northwestern University and a bachelor's degree from UC Berkeley. She is passionate about fostering public trust in government, transforming government for the digital age and studying how mass audiences form online.
Email: Amy.Palmer@govops.ca.gov
Gabriel Ravel
Chief Counsel
Gabriel Ravel was appointed Deputy Secretary and General Counsel of the Government Operations Agency in June 2020. In his role, he advises the Secretary and GovOps staff on legal matters and helps to coordinate the legal work of GovOps departments. Gabriel has spent almost his entire career as an attorney in state service, including appointments as General Counsel at the California Health & Human Services Agency, General Counsel at the California Department of Managed Health Care, where he focused on health plan regulation and helped guide and defend the Department's policy on reproductive rights, and as Assistant General Counsel at Covered California, helping to stand up the state's health exchange. He began his legal career as a law clerk to the Honorable Edward F. Shea of the U.S. District Court for the Eastern District of Washington. Before attending law school, Gabriel spent a year volunteering at a health clinic in a rural area of Washington State that primarily served migrant farmworkers.
Email: gabriel.ravel@govops.ca.gov
James Regan
Deputy Secretary, Workforce Development
James Regan was appointed by Governor Gavin Newsom to Government Operations Agency in 2023. Prior to his appointment, Regan served as the Assistant Deputy Director of Health Workforce Development at the Department of Health Care Access and Information where he helped manage a billion-dollar portfolio of programs to support and build the health workforce across California. He also led several population health initiatives and COVID-19 response efforts with the California Department of Public Health, including initiatives to support operational efficiency, policy development, and strategic use of data. Prior to joining state service, he managed a variety of community-based health promotion efforts in California's Central Valley. Regan holds a Bachelor of Science in Biological Sciences from University of California, Merced.
Email: james.regan@govops.ca.gov
Sarah Soto-Taylor
Deputy Secretary, Business Transformation and Strategic Development
Prior to joining the Government Operations Agency, Ms. Soto-Taylor, worked at Covered California as Senior Consultant from 2015 – 2019 and as Deputy Director of Community Relations from 2012 – 2014 where she launched the Affordable Care Act's state-wide Outreach and Education Campaign and Enrollment Assistance Programs. From 1997 – 2012 Ms. Soto-Taylor held various senior management and leadership positions at the Managed Risk Medical Insurance Board in the areas of Eligibility, Enrollment and Marketing, Benefits and Quality Monitoring, Legislation, and External Affairs. Prior to joining state-service Ms. Soto-Taylor was a bilingual community health educator and administrator of health care programs in the private sector. Ms. Soto-Taylor earned a Bachelor of Science degree in Community Health Education and Master of Public Health degree from San Diego State University.
Christina Spagnoli
Senior Advisor
Prior to being appointed, Christina served as Deputy Secretary of Legislation at GovOps since 2019. She was Vice President of State Government Relations at the California Bankers Association from 2018 to 2019, capitol director for Assemblymember Blanca Rubio from 2016 to 2018, chief lobbyist and legislative director for Planned Parenthood Affiliates of California from 2014 to 2016 and legislative director in the Office of California State Assembly Majority Whip Jimmy Gomez from 2013 to 2014. Spagnoli was senior legislative aide in the Office of California State Assembly Speaker pro Tempore Nora Campos from 2011 to 2013, scheduler and legislative aide in the Office of Assemblymember Gilbert Cedillo from 2010 to 2011 and a fellow in the Office of Assemblymember Dave Jones from 2008 to 2009.